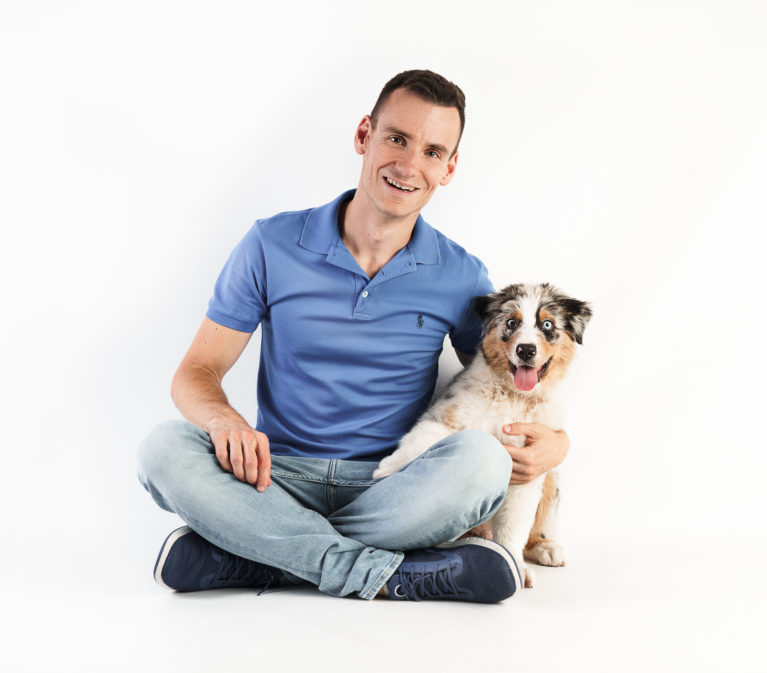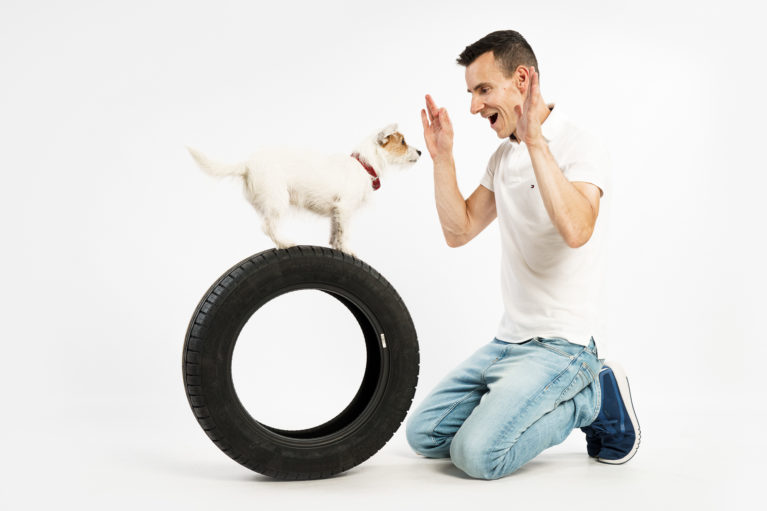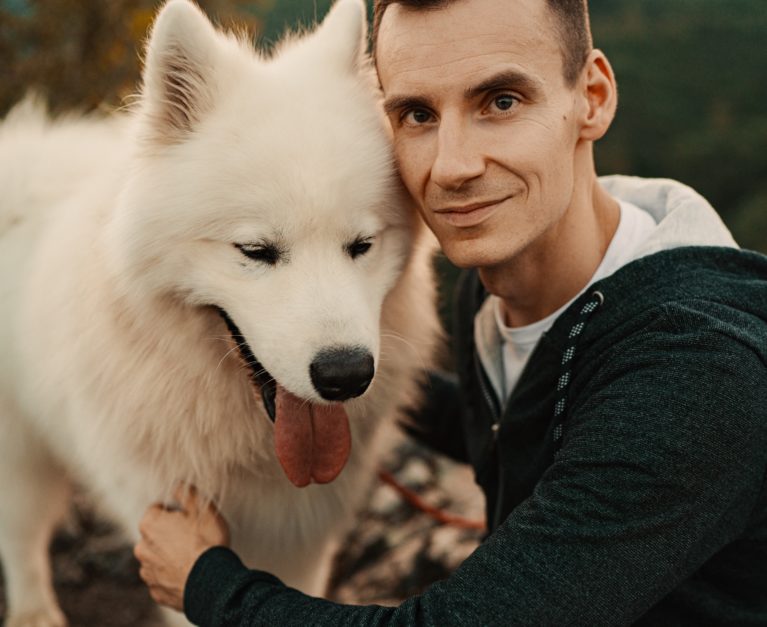 about me
My name is Robert Zlocha and I am a professional dog trainer. People often see me as someone who understands dogs and can teach them almost anything –but the most important part of my job is to pass this knowledge on to people. My goal is always to help owners master this knowledge so they can become their dog's own trainer. I teach others how to react properly in various situations that life with a dog brings.
I work with clients and their dogs every day. In addition, I also lecture on various topics that interest or concern dog owners, write professional articles, and coach other trainers.
This would not be possible without continuing to educate myself. I'm always learning and embracing new experiences, both in the Czech Republic and abroad. Over the past few years, I have completed more than fifty courses and seminars. I attend conferences and take on internships with the world's best trainers because I'm interested in what they do differently than others.
However, I learn some of my most valuable lessons from my own clients. Over the course of my career, I've worked with more than 1000 clients and over 150 different dog breeds. They've helped me build and perfect each exercise so that they can be used by almost all dog owners.
I wasn't always a dog trainer, though. I originally studied finances in the Czech Republic and abroad and worked in corporate banking. Health problems with my eyes (too many hours in front of the screen and under strong fluorescent lights!) eventually pushed me to make a life change and become a dog trainer. If you are interested in my story, check out my interviews on Czech Radio Radiožurnál and Forbes magazine.
Czech Radio Radiožurnál: Sunday guest of Patrícia Strouhalová  here
Prima CNN News: About positive methods as well as my new online course, beginning at 36 minutes here
Pejskarium: We talked about socializing dogs here
Forbes: An article about my journey from the financial world to the world of dogs here
eCanis: Article about my approach to dogs and training, published in a Czech online magazine for dog owners and trainers here
A selection from a series of articles I wrote for eCanis.cz:
Dog socialization and interactions here
Socialization: Puppy formation here
Separation anxiety: How to deal with it here
Život-online.cz:  A piece about dogs and modern ethical training here
Prague TV:  The report with me starts at 1:44 here
Dive Deep: An Advanced Training Course with Ken Ramirez – a 5-day seminar in USA with one of the most inspiring trainers of this time. Topics covered: Aggression, husbandry training, recall, scent work and many others.
Aggressive and Problematic Dog Behavior with Chirag Patel – A 5-day intensive training seminar in England with a world leader in animal training. Patel is well known for using the latest training techniques and approaches, many of which he developed himself
Education and Training of Puppies with Chirag Patel – 7-day intensive coaching seminar in England focused on puppy training and education
One-year intensive course with Pavla Kamrádová – Daily shadowing of lessons and consultations on a weekly basis, plus leading own lessons with clients
Recallers with Susan Garrett –A year-long intensive online course from the Agility World Champion and Canadian Obedience Champion, Susan Garret. The course focused on dog training with an emphasis on perfect recalling
Conference of the International Association of Animal Behavior Consultants (IAABC )  — Originally planned in Boston, USA, but held online due to the start of the Covid pandemic
Seminar with trainer Ken Ramirez (Prague) –Two days full of inspiration from a trainer who pushes the boundaries of training possibilities
Online Conceptual Training course with Ken Ramirez 
Online courses with Emily Larhlam (alias Kikopup from Dogmantics Dog Training in San Francisco, USA) – Courses included "Pulling on a leash," "Reactivity" and "Multiple dogs household"
Dog Symposium in Oslo – Conference for trainers with the famous Turid Rugaas and many other speakers from France, Australia and the USA
Communication Lessons with Dogs with dog communication expert Lenka Blachová  
Various lectures and several webinars on topics that concern dog owners with ethologist and animal trainer František Šusta
Now and Here with František Šusta and Petra Bartošová — A multiple-day seminar that received the ABMA professional animal trainers' award. Focused mainly on the work of dog handlers within the framework of positive methods
Aggression and Communication in Dogs –  Top Italian trainer Alexa Capra and her methods of solving aggression in dogs, which she developed over 25 years of work in this area
Collaboration Training with Roz Pooley : 3 days with an excellent British trainer focusing on modern methods that can facilitate our daily coexistence with dogs (pulling on a leash, visits to the vet, swimming, clawing, etc.)
Dogfitness Seminar with Veronika Gesierichová
Examples of other seminars and courses: Aggression and Problem Behavior in Dogs with Jiří Ščučka / Understanding Behavior Chaining with Lenka Blachová / Reactivity Seminar with Lenka Blachová / Intensive Obedience Seminars with Shauna Wenzel / Online Obedience Course with Shauna Wenzel / Intensive Obedience Seminars with Valentina Balli / Obedience Seminar with Julia Bukovinská, Ivana Šimůnková, and Jana Grešová / Obedience Seminar with Lucie Stemmerová / Intensive seminars on Nosework with Julia Bukovinská: Nose Work Training (Urban and Discrimination category)
And dozens of other seminars, lectures and courses.
MY services in dog training
1

Modern ethical training without the use of physical punishment and focused on motivating your dog

2

Obedience training, improving recall, dealing with reactive and problem dogs (leash issues, aggression, fear…)

3

Basic training as well as everyday behavior problems (leash pulling, excessive barking, begging, socialization, etc.)

4

Individual lessons, including individual lessons for puppies, dog sports, obedience and nosework.

5

Training in my own facility and outdoors in Prague 13 (next to metro stop Luka, Stodůlky).

6

Emphasis on fun – both you and your dog should enjoy training

7

Check out my work and training tips on Instragram or Facebook . Or take a look at my interviews and media articles in the "About Me – In the Media" section.
WHAT DO YOU WANT TO TEACH YOUR DOG?
During our first meeting, we can talk about what you would like to achieve with your dog. That could be just having a great partner in life or one that runs back with enthusiasm every time you call him.
We can also work on solving what is bothering you or your four-legged partner. Depending on the issue, I can suggest a solution tailored to your situation, and if you agree, we will start working on it immediately.
LESSONS ARE INDIVIDUAL
Unless you specifically ask for group lessons, all trainings are individual so you can be sure that you'll get my full attention. We can always involve other dogs and their owners during future lessons if necessary. I develop my sessions so they're entertaining and productive for both the owner and the dog.
HOW LESSONS WORK
I will first show you and explain the exercises and then you will try everything yourself under my guidance . We often start training indoors or in a quiet place, so that your dog can focus on learning important habits without unnecessary stress from the environment. We eventually move to harder and harder surroundings so that your dog is ready for everyday life and challenges.
During lessons, you can always ask about things you are interested in trying. I'll be happy to explain or show you anything. It's very important that you understand everything well so you are able to continue training with your dog after the lessons, at home or during your daily walks.
HOW LONG WILL IT TAKE TO TRAIN MY DOG?
Clients often ask me how long it will take for their dog to be trained . Unfortunately, there isn't a single answer for everybody. It depends on how much energy and time you put into the training, but also on what you're teaching your dog or what problem you're trying to solve. That's why this isn't an easy question to answer in advance. However, my experience is that clients can notice significant progress after five to ten lessons.
WHO SEES THE BEST RESULTS?
Owners who are willing to continue working and practicing with their dog after the lessons will see faster improvement. Some successful owners even take notes during lessons to better remember new information.
The combo "trainer – owner – dog" is important in training. I will always share my knowledge and effective solutions with you, but I will need you to provide the desire and energy to work with me, so you can become your dog's own trainer.
Regular work with a dog can be challenging on a busy schedule, but dogs are best motivated by  regular training. The greatest progress is always made by clients who attend training once or twice a week , at least in the beginning. Less frequent training is still useful and important, but you'll see slower progress.
I arrange lesson times with clients individually to suit your and my schedule. However, my training program is often full,  so it's always best if we plan lessons in advance so that you do not have to wait a few weeks or months for the next available date.
1

Leash

2

Collar or harness (ideally both)

3

Favorite treats (large quantities, small pieces)

4

A toy (ideally for pulling)

5

Food or water bowl

6

Blanket for your dog
AT MY LOCATION in Prague 13
A package of 5 lessons  costs 8000 CZK.
The training facility is located at Kettnerova 2048/28, Prague 13. A standard lesson is 55 minutes long.
OTHER IMPORTANT INFORMATION
The lessons take place only in working days from 9am to 4pm (4pm is the beginning of the last lesson).
Payment for a package of lessons is always required in advance.
CONDITIONS FOR LESSON CANCELLATION
100% of the price 72 hours or less before the lesson (cancellation from any reason).
IN MY OWN TRAINING FACILITY AND SURROUNDING AREA 
Kettnerova 2048/28, Stodůlky, Prague 13. Located one minute away from metro stop Luka (yellow line B, direction Zličín). Training is possible indoors or outside in the park and surroundings.
MODERN ETHICAL TRAINING
Think of modern ethical training (or MET) as the ideal method to embrace when learning something new. You can try everything and you have space and time to understand. If you make a mistake, your trainer will simply explain things to you again. At the same time, you can enjoy learning and look forward to it and are actively involved in the process at all times. This is how not only you but also your dog should feel when you train using the MET method. It's not only a fast, effective and understandable way to learn, but also a fun one.
I created and named this approach to training by combining a number of new modern training techniques. I always use this knowledge ethically so that your dog wants to become your partner and your relationship is never based on fear of physical punishment or psychological coercion.
POSITIVE METHODS
The MET method is based on positive methods. While reward – whether in the form of a treat, game, or verbal praise — is an important part of the motivation to learn, it is equally important to set boundaries and rules that are based on your needs. Learning to read the signals your dog is sending will help you understand how he/she is managing a certain situation and what that means for you and how to respond to it.
These principles and approach are an intrinsic part of my work with clients and dogs. My goal is to make sure both you and your dog learn many new practical strategies and solutions in our lessons so you can immediately put them to use in your daily life.
"Modern methods without the use of physical punishment."